The world's most




Compact Helmet
Designed to fit the dynamic and spontaneous nature of micromobility users
Heady is an ultra
compact inflatable helmet.
In independent tests we conducted, we came up with excellent results indicating that heady helmet protects the head even better than a traditional helmet.
It's a compact, inflatable and always accessible helmet
The inflatable structure absorbs and distributes impact energy, thereby reducing head impact deceleration during collision.
Designed to fit the dynamics and spontaneity of micromobility users.
Always with you!
Innovative patent pending design
Patent Pending design reduces the number of failure points in the internal structure and optimizes the production process, enabling an affordable solution.
Ultracompact
and light
heady can fit in your pocket!
And it weighs less than an iPhone.
Micromobility is Urban Freedom
As cities face rapid population growth and overcrowding, these "light vehicles" give people the freedom to move around a city.
​
We believe that micromobility is going to be a key component of future urban smart mobility. To reduce the number of possible injuries and save lives, we've created heady - a compact helmet that is always accessible and is designed to fit the dynamics and spontaneity of micromobility users.
Bikes and scooters are shaking up urban transport worldwide
The number of micromobility users has been increasing rapidly over the last years, and with it, so has the number of user injuries, especially head injuries.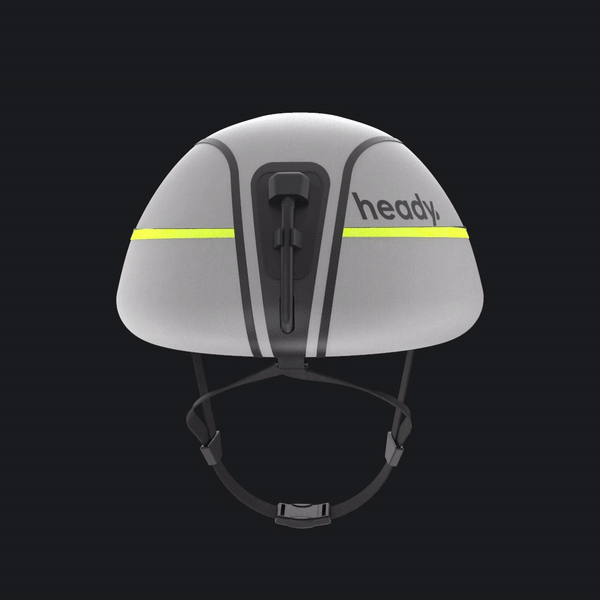 Studies have shown that wearing a helmet can reduce the risk of serious head injuries.
However, the reality is that most of the users don't wear helmets.
A research study we've conducted reveals the main reasons for helmets not being used on a regular basis are bulkiness, discomfort, and the need to be carried around anywhere.